FEBRUARY 2018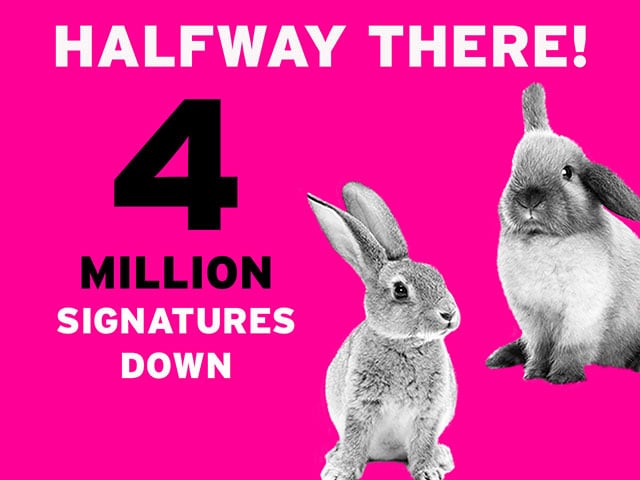 Forever Against Animal Testing is breaking records
Our Forever Against Animal Testing petition has now collected over 4.1 million signatures! This doesn't only mean that we are over half way to our target of 8 million signatures… It also officially makes our campaign the biggest in history to call for an end to animal testing in cosmetics! It beats our own record made alongside Cruelty Free International for our Against Animal Testing campaign in 2004.
The milestone marks incredible progress towards our goal of ending animal testing in cosmetics. Since its launch, we have been tirelessly campaigning globally to raise awareness of the issue – and the European Parliament Environmental Committee has recently declared their support for a global ban! Even within the past few months many countries such as Brazil, Canada and South Africa have been reconsidering their laws on animal testing in cosmetics. .
With only 3.9 million signatures to go, let's not stop now! Keep signing, sharing and standing up – together, we will end animal testing in cosmetics.
JANUARY 2018
Dogs unite for #ForeverAgainstAnimalTesting
We staged the first ever United Nations pet protest! On 24 January, dogs of different breeds and sizes took to the streets outside the United Nations to raise awareness of our #ForeverAgainstAnimalTesting campaign, which launched last June with Cruelty Free International.
Using protest signs, bandanas and miniature banners, the dogs were showing support for their furry friends all around the globe and protesting against animal testing in cosmetics. Our campaign aims to take eight million signatures to the United Nations, calling for an end to animal testing in cosmetics once and for all. The dogs were also joined by pet photographer @TheDogist, who helped them spread the word that this cruel practice needs to end.
To join our fight and help the dogs stand up for animals everywhere, sign and
SIGN OUR PETITION
Photo: (Andrew Kelly/AP Images for the Body Shop)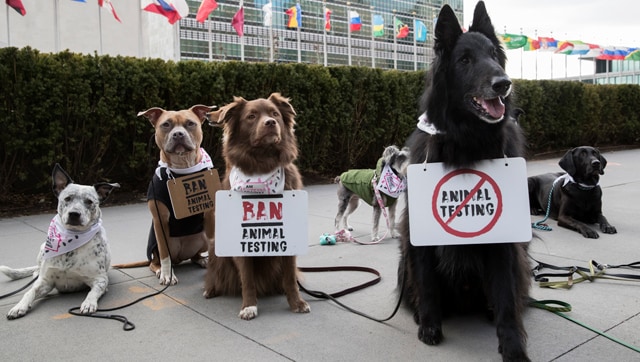 DECEMBER 2017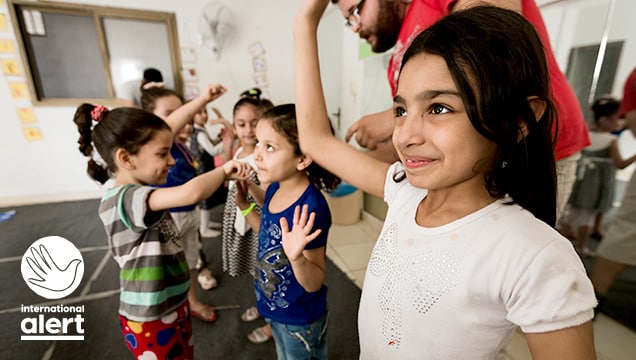 Support our Peace Play Project this Christmas
Christmas is here, and The Body Shop is on another mission to help spread good vibes. This year, we're supporting International Alert's Peace Play Project, to help refugee children affected by the war in Syria heal through play.
The refugee crisis is devastating. Over half of the world's refugee population are children, and for those that are Syrian and under the age of seven they have only ever experienced war-related loss and the uncertainty of life as a refugee. When The Body Shop learned of International Alert's Peace Play Project and the incredible benefits it provides to these children, we knew we had to support it.
The Peace Play project provides refugee children with a safe place to play, to deal with their trauma, learn to cope with their losses and be free to express themselves without violence. The project is vital in helping children affected by war, such as Leena. Leena is seven years old and has lived in a refugee camp for five years. She comes from a rural part of Syria, but the Peace Play Project is the only chance she gets to make new friends. Since joining the project, Leena's mum says she is much happier, relaxed and more confident.
We're aiming to raise a total of £250,000 this Christmas to fund the Peace Play Project in Shatila refugee camp for one year, benefitting 600 children and their families. Every gift you purchase from our seasonal gift collections will go towards funding International Alert's Peace Play Project.
Help support the project and spread the word on social media. To find out more about the partnership, visit here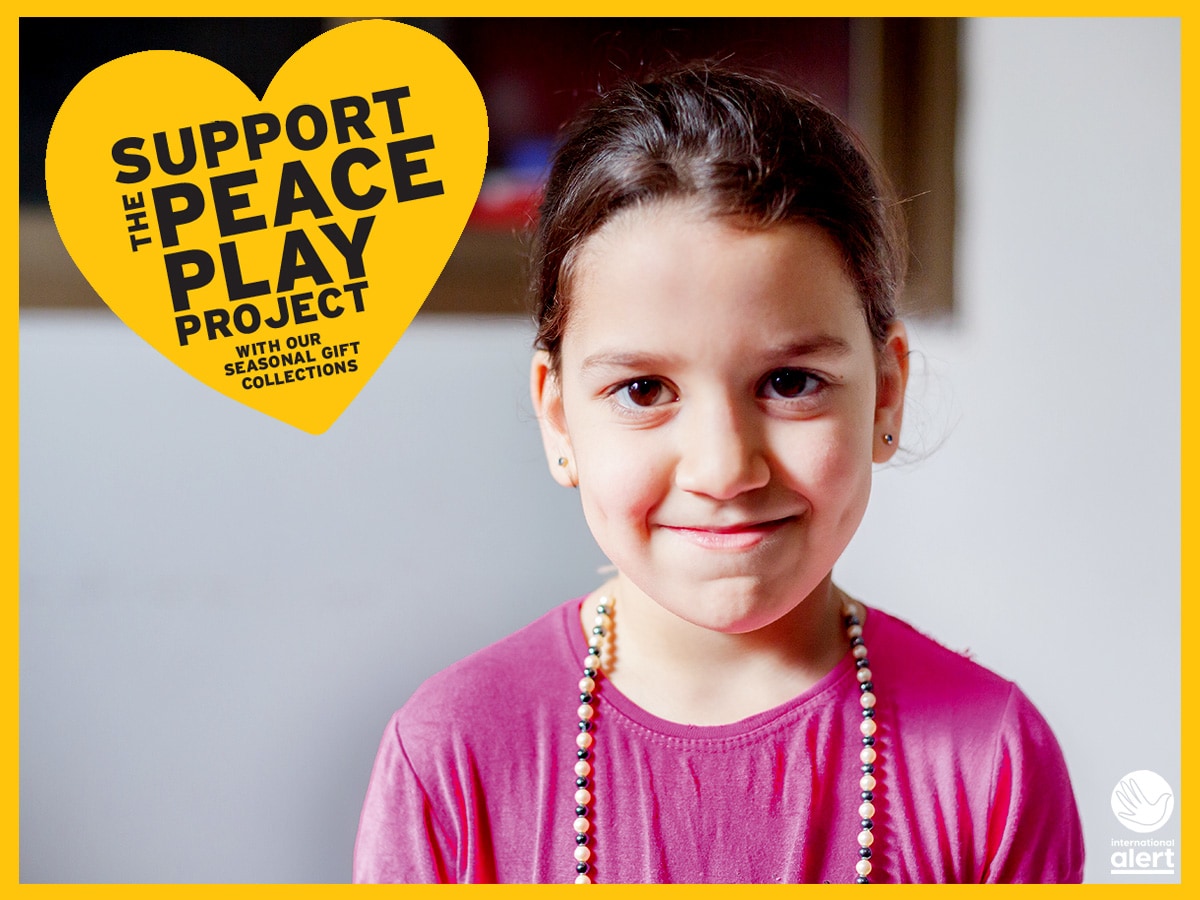 NOVEMBER 2017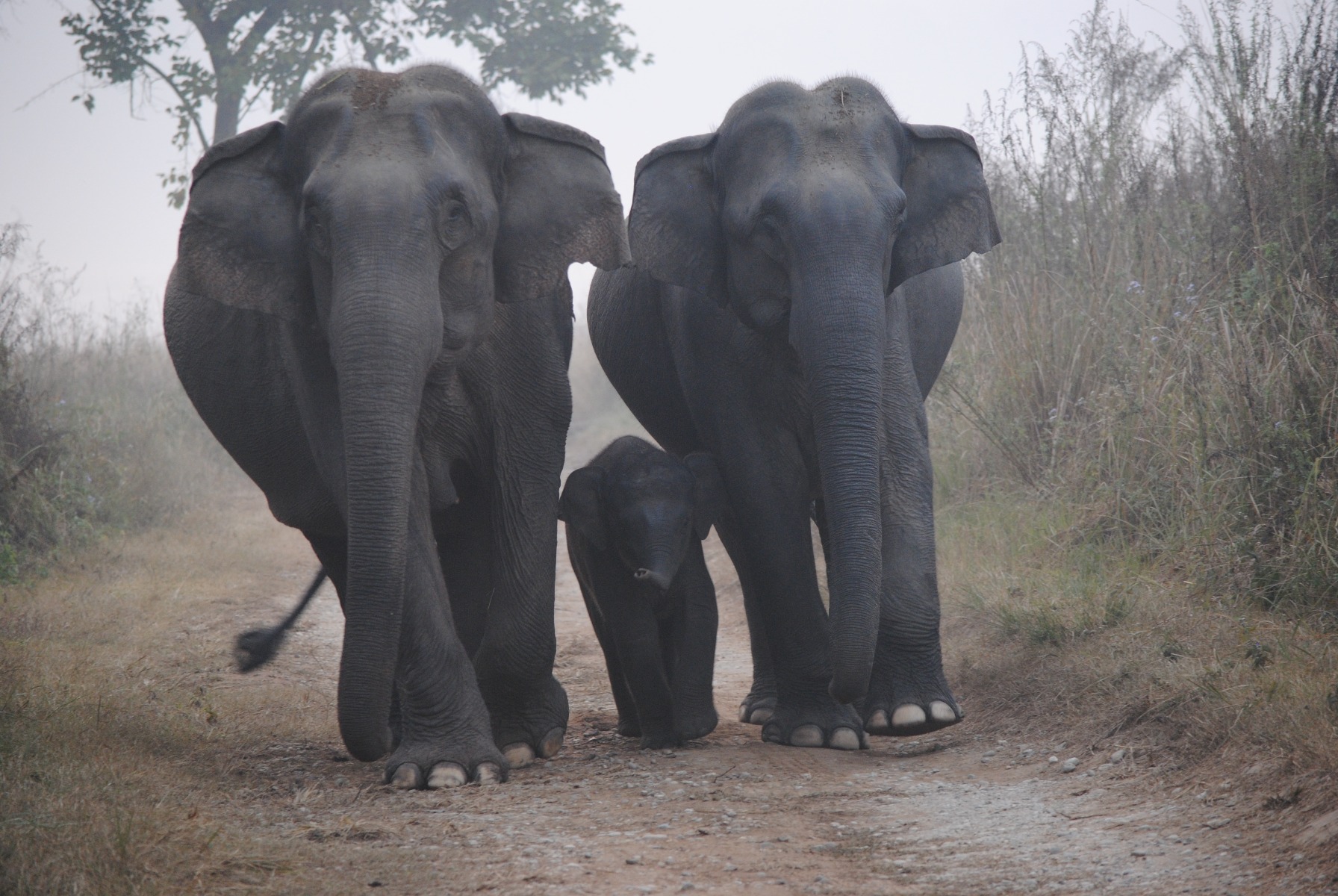 2017 has been a great year for Bio-Bridges!
Last year, we began working with international and local charity partners to build Bio-Bridges. In case you didn't know, Bio-Bridges help protect and regenerate natural corridors of land between healthy forests, enabling endangered species to find each other, thrive and breed. So far, we've launched four Bio-Bridges projects, in Vietnam, Indonesia, Malaysia and India, and 2017 has been an amazing year for Bio-Bridges!
So what have we achieved in 2017?
• We launched the World Bio-Bridges Mission, our wild new conservation project, with a pledge to build an additional 10 Bio-Bridges by 2020.
• We also launched a new Bio-Bridge project alongside World Land Trust and the Wildlife Trust of India in the Garo Hills District, India, to protect the endangered Indian elephant and Western Hoolock Gibbon.
• We introduced the NEW Amazonian Saviour™ Multi-Purpose Balm, the first product with a direct donation to our World Bio-Bridges Mission fund.
• In the Khe Nuoc Trong forest in Vietnam, where our project is located, the population of Red-Shanked Doucs is now the largest in the country!
• This month, scientists discovered a new furry friend for the first time, the Tapanuli Orangutan. The new species of ape has been found in our Sumatran Bio-Bridge, and with only 800 of the species left, it's officially the most endangered great ape in the world so it's vital that we continue to protect their habitat and allow them the chance to thrive.
• Our Malaysian Bio-Bridge charity partner Melvin Gumal, WCS, met with Prince Charles to show him the amazing work that they have been doing and the former farm land that will shortly be set aside for conservation – we're so proud to support Melvin and his team!
• The Body Shop will protect an incredible 12,185,600 square metres of Bio-Bridge in 2017, bringing our overall total to over 29,300,000 sqm!
We're so grateful to have so much customer support – it helps us make a real difference. It means we can continue to protect endangered species all around the world, and help the local communities surrounding them to thrive, and live sustainably. To find out more about the World Bio-Bridges Mission, as well as our partners and previous projects we have worked on, visit here
Orangutan photo: Andrew Walmsley.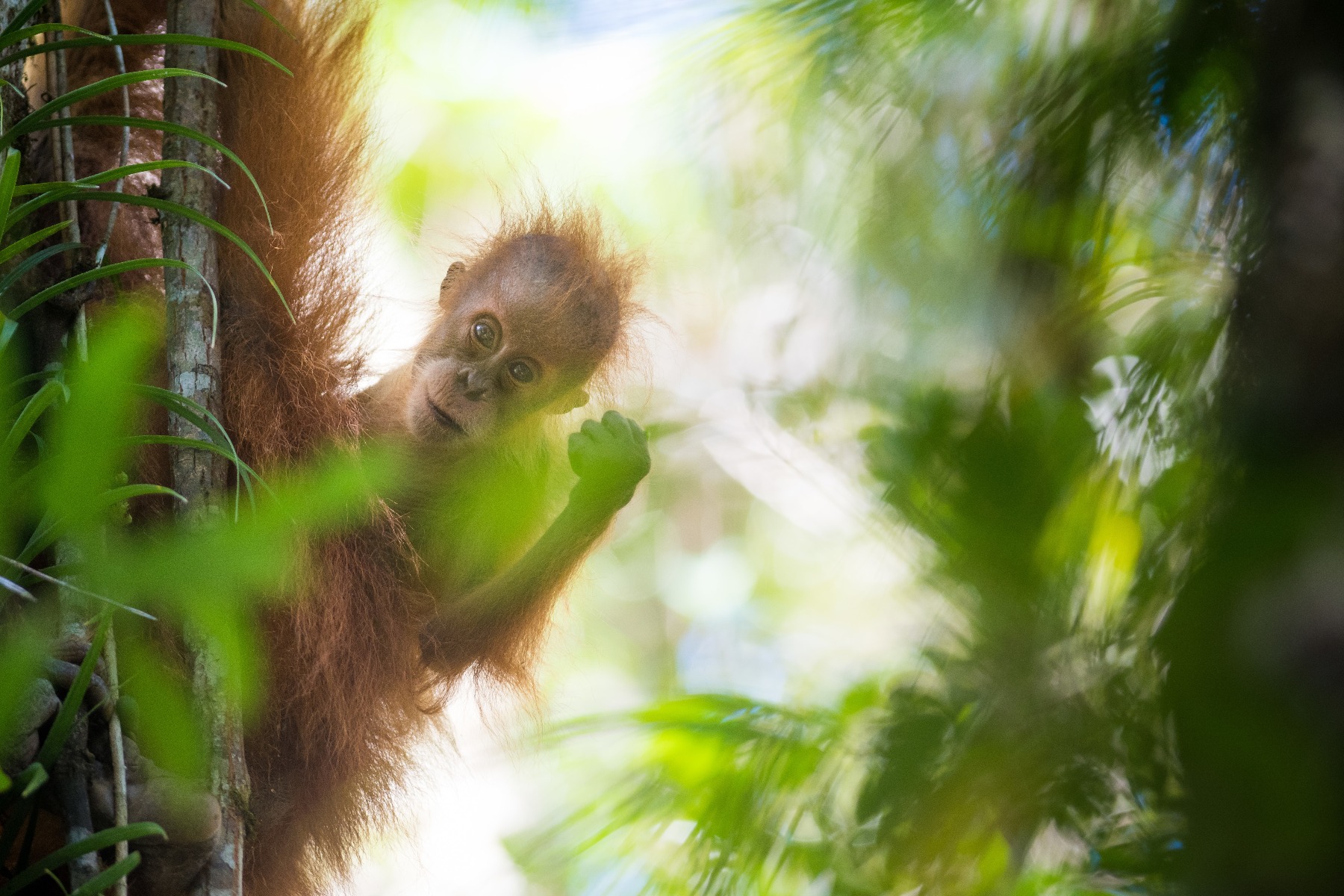 OCTOBER 2017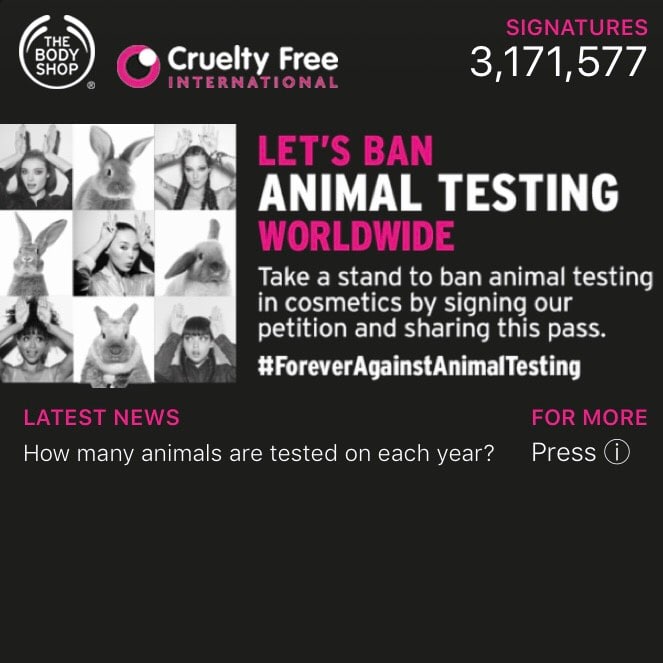 Our Forever Against Animal Testing campaign has had a digital
update!
It's been over 4 months since we continued our fight alongside Cruelty Free International and launched our Forever Against Animal Testing campaign. Your support has been incredible, and we've achieved great results so far!
We now have some new and exciting news: last month, The Body Shop and Urban Airship launched the Forever Against Animal Testing mobile wallet pass. The pass provides regular news updates on the campaign directly to your phone, as well as a signature count!
Why not add our digital news pass to your mobile wallet? Click on the icon below from your mobile device.
SEPTEMBER 2017
The Body Shop joins the Natura family
We've got some brilliant news: The Body Shop has now officially joined the Natura family! Natura is Brazil's number one cosmetics company and will be a great fit to nurture our brand. They are against animal testing and have been a true leader in ethics and sustainability since they were founded in 1969.
Natura has shared our ethical vision from across the globe for over 40 years and now we are working together. We're looking forward to a bright future and this inspiring new chapter.
Keep up-to-date with The Body Shop during this exciting time by following us on social media.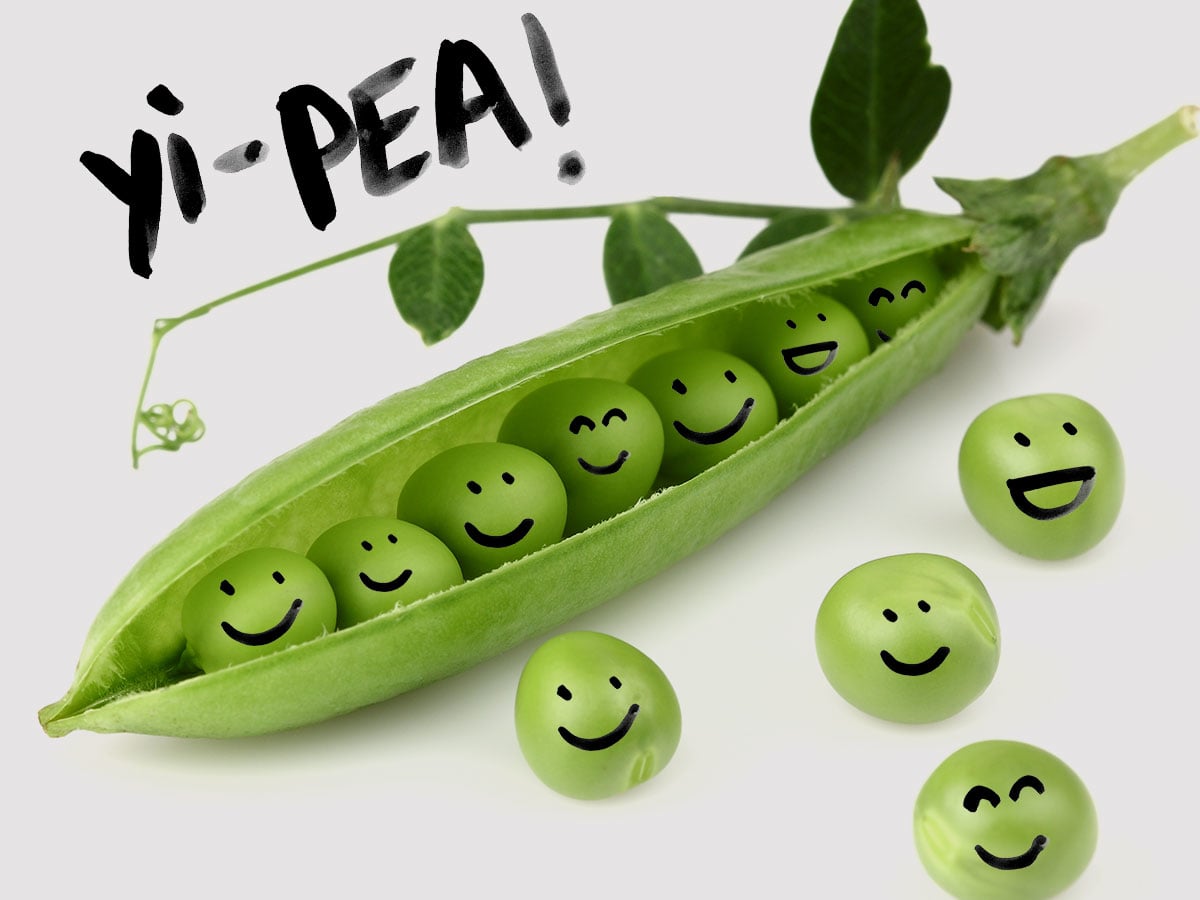 AUGUST 2017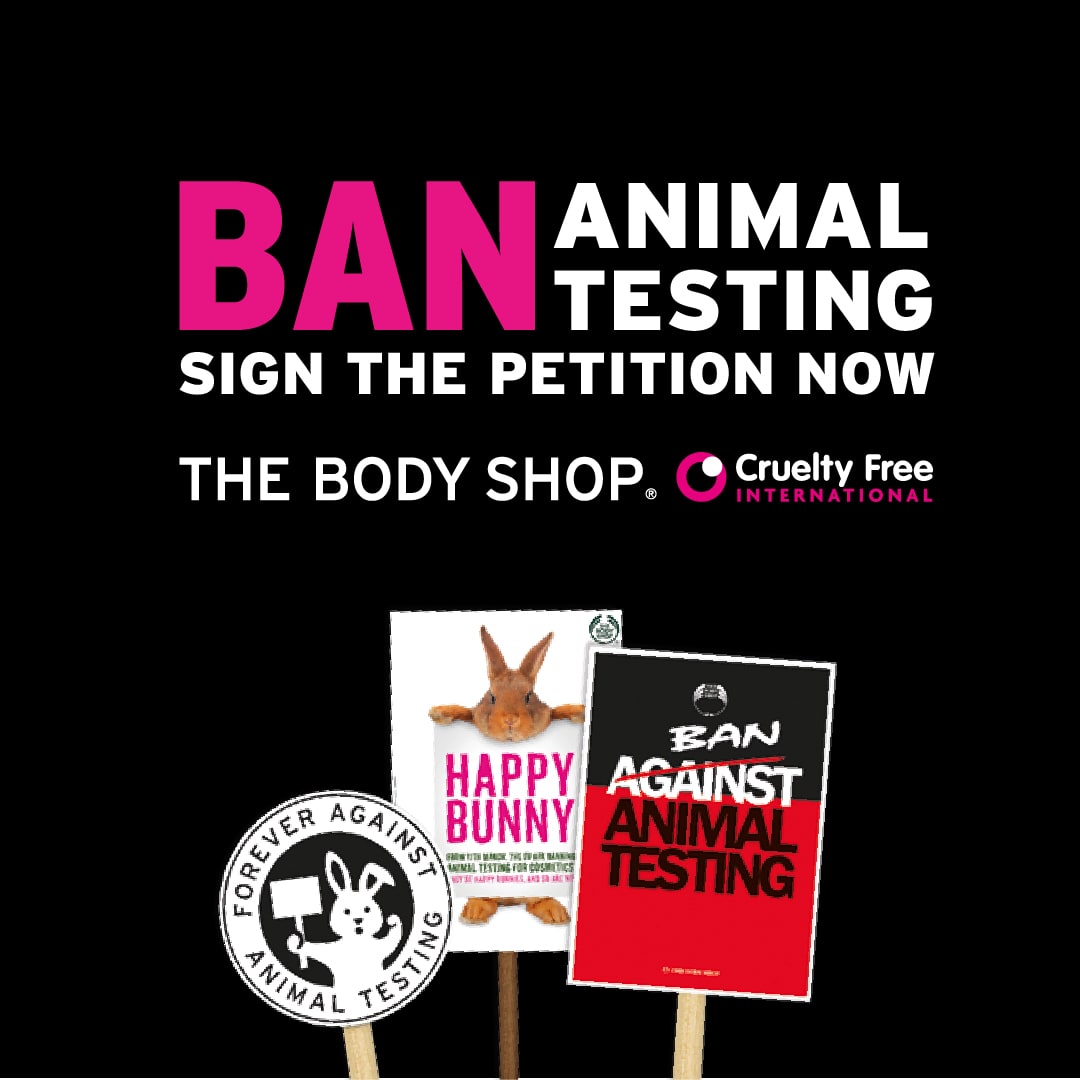 Our Forever Against Animal Testing Campaign petition has over 2
million signatures!
Our Forever Against Animal Testing campaign launched in June, and we have been continuing our long and passionate fight alongside Cruelty Free International to end animal testing in cosmetic products and ingredients. The support from animal lovers across the world has been fantastic, and in just over 2 months we've already collected over an amazing 2 MILLION signatures towards our 8 million target!
We're very proud that so many of you have joined our campaign already by signing our petition, posting photos on social media with pets, friends and positive messages. You've all helped bring us one step closer to ending animal testing in cosmetics for good!
We have 6 million signatures to go: get involved, sign the petition and share with your friends here!
JUNE 2017
Join our latest campaign!
Since the 1980s, The Body Shop, along with partner Cruelty Free International, has campaigned to end animal testing in cosmetics. And together we contributed to UK and EU bans, but as 80% of countries still don't have any laws against animal testing in cosmetics, there's still work to be done.
Animal testing on cosmetic products and ingredients remains a problem around the world and animals continue to suffer! Approximately 500,000 animals are used in cruel tests for cosmetics purposes every year.
In our new Forever Against Animal Testing campaign, we're teaming up with Cruelty Free International again to call for a total ban on animal testing in cosmetic products and ingredients, everywhere and forever. To achieve this, we will take 8 million signatures to the UN and call for an international convention that will standardise laws. Only then will there be a harmonised global ban on animal testing for cosmetic products and ingredients, ensuring animal testing cannot be moved from country to country.
It's an ambitious target but one we are determined to reach to end this everywhere and forever. With reliable and more accurate alternatives now available, there is no need or excuse for animal testing in cosmetics.
MARCH 2017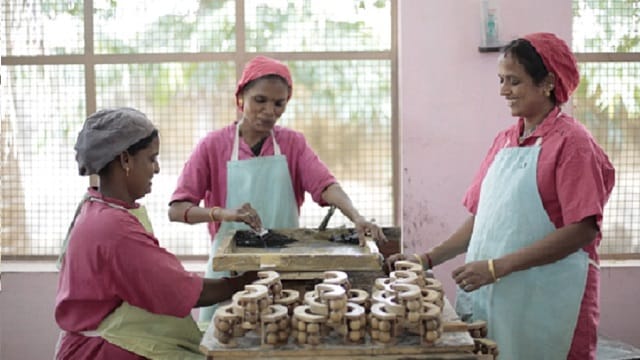 The Body Shop publishes its Modern Slavery Statement
For the first time in Europe, the UK parliament passed the Modern Slavery Act in 2015. Designed to tackle slavery and human trafficking in the UK, the Act introduces tougher penalties and sentences for slavery and trafficking offences. It also requires UK businesses to publish a slavery and human trafficking statement to ensure transparency within supply chains.
The Body Shop has always believed in business as a force for good. We passionately believe that our supply chain should be free from exploitation and discrimination where workers can enjoy freedom and security. That's why, in 1998, we co-founded a leading ethical trade programme - the Ethical Trade Initiative - with other like-minded companies, voluntary organisations and trade unions. This means we only trade with suppliers who meet our strict Ethical Trade standards.
In line with our Ethical Trade policy and the new Modern Slavery Act, The Body Shop has published its own Modern Slavery Statement. In it we outline our long-standing commitment to preventing modern slavery across our company and supply chain. To achieve this we have developed a programme with a range of stakeholders that identifies issues relating to modern slavery in our business and supply chain, and addresses the root causes of labour abuses. We want to do everything in our power to end modern slavery.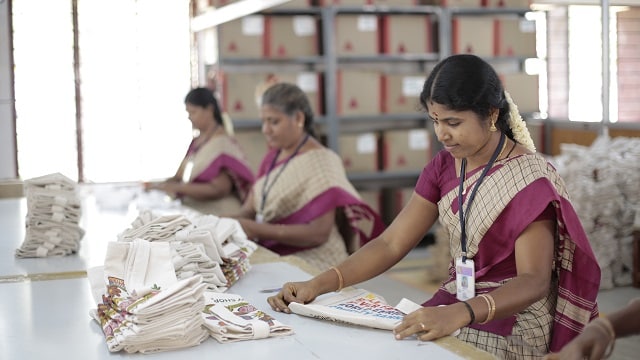 FEBRUARY 2017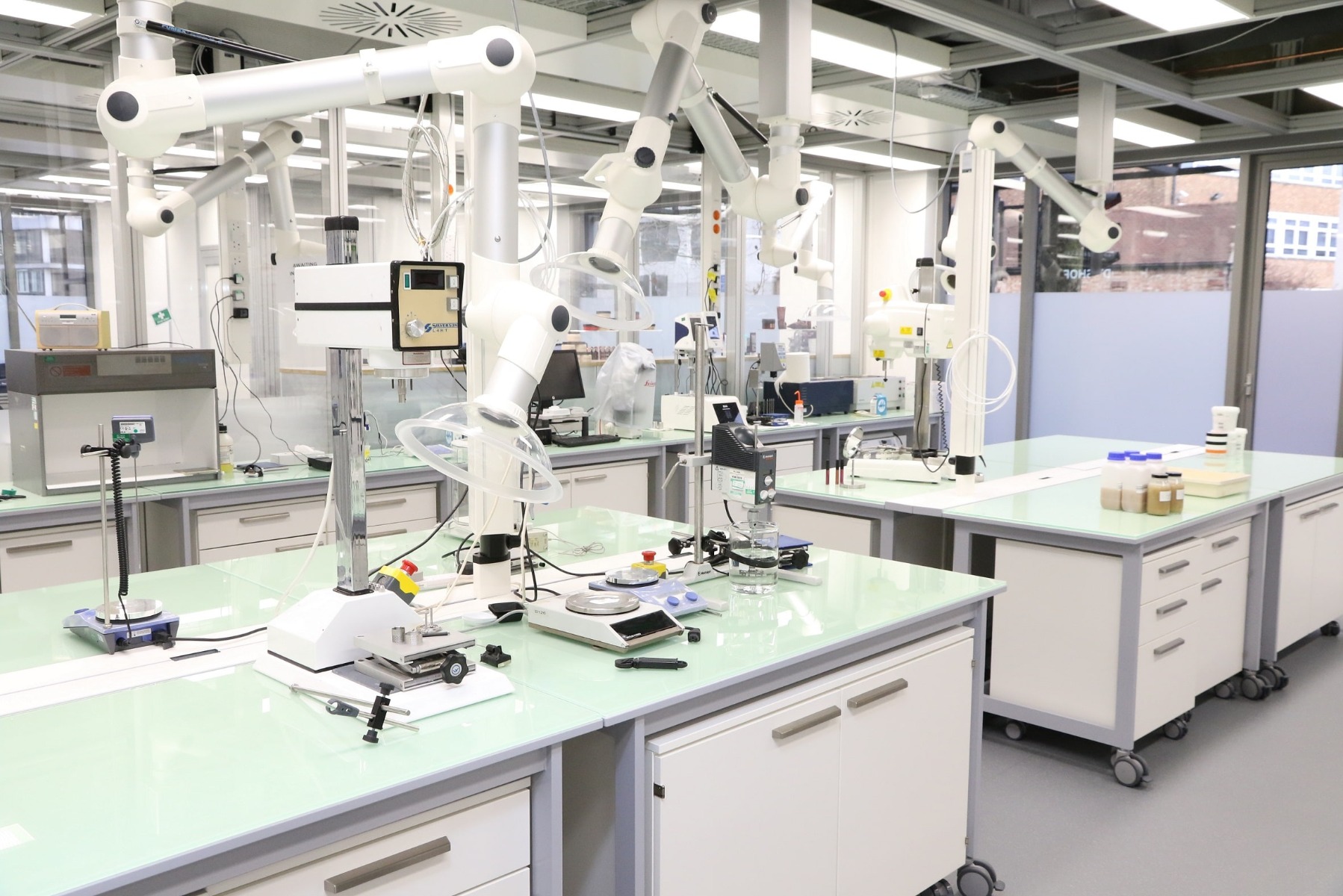 The Body Shop opens new £1M Beauty Innovation Lab
At the end of last year The Body Shop opened a brand new £1m beauty innovation hub in East Croydon, London, bringing the latest cosmetic innovations to our product development and ultimately to our customers.
Based at our global headquarters, our new state of the art laboratory will see marketing, sustainable sourcing and product development teams working in partnership. We will work towards integrating all aspects of our ethical product development and sourcing, helping drive our innovation and sustainable development. Our technicians can now formulate products quicker and more effectively, creating and testing products right next to our own office.
It is an ambitious investment, but one that takes a big step towards the realisation of our Enrich Not Exploit™ Commitment to become the world's most ethical and truly sustainable global business by 2020, specifically through helping us to reduce year on year the environmental footprint of all of our product categories. In the lab our technicians will also optimise efficiencies in our testing processes, using a unique ingredient database.
Over the next few years we look forward to seeing the impact of the lab and the many benefits it will bring!
JANUARY 2017
We're 20% of the way to meeting our Bio-Bridges goal!
In 2016, The Body Shop embarked on a wild challenge to raise funds to build Bio-Bridges, protecting and regenerating habitat to help endangered wildlife around the world. We're so proud that because of our passionate customers we've raised funds to build an incredible 17.2 million square metres of Bio-Bridges in 2016, which, at the size of more than 2,500 football fields is more than 20% of our 2020 goal to protect 75 million square metres! Over 5 million square metres worth of these funds were raised during the festive season alone. We cannot thank you enough.
By making selected purchases at The Body Shop during our Bio-Bridges programme promotions, our customers were directly helping build Bio-Bridges, through donations from these purchases by participating The Body Shop stores. These funds will help improve endangered animals like Reggie the Red-shanked Douc, who is one of the species in Vietnam we are aiming to help protect.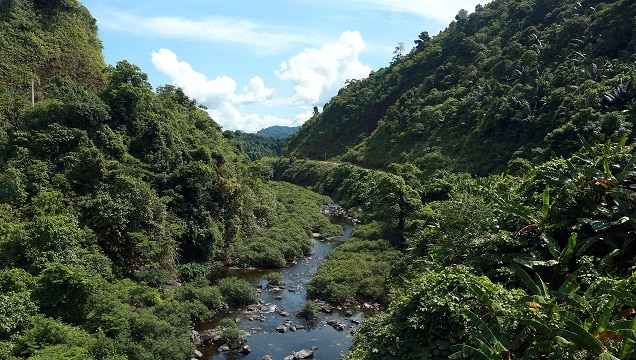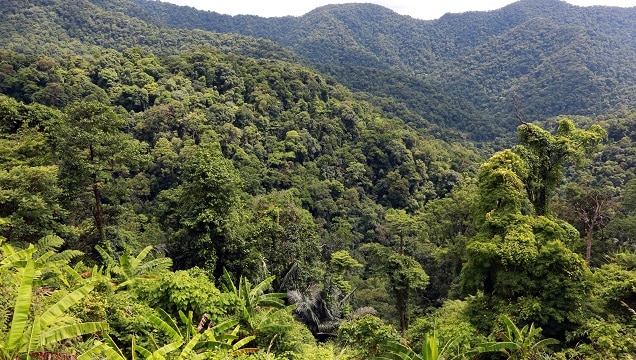 Bio-Bridges is an important programme which aims to regenerate wildlife corridors within damaged landscapes to help endangered species reconnect and local communities to live more sustainably. Our partners on this project in 2016 were World Land Trust (WLT) and VietNature in Vietnam, the Orangutan Land Trust in Indonesia and Wildlife Conservation Society in Malaysia.
But The Body Shop's commitment to protecting wildlife doesn't stop there. By 2020, we will protect and regenerate 75 million square metres of habitat. Click below to find out more about Bio-Bridges.